Home > Attractions > Aue Sunthorn Snan's Home
(Ban Kru Aua)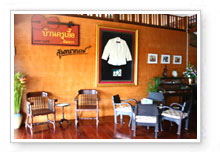 Operating day: Monday - Sunday and Holiday
Operating time: 11.00 am - 08.00 pm.


Ancient wooden building on Amphawa canalside. Which is the birthplace of Aue Sunthorn Snan teachers(Kru Aua) nearly 100 years ago. A museum exhibiting the history of contributing teachers. The Center of Information for individuals interested in researching the story of the Suntharaporn's song from past to present.


Public Relations Office Chai Pattana Foundation.
Tel. 0 2282 4425 Ext. 116, 117, 0 2252 9881


Suntharaporn Foundation.
โทร. 0 2241 0974 แฟกซ์ 0 2241 3535,
http://www.websuntaraporn.com/,
e-mail: soontaraporn@gmail.com
Reference
Tourism Authority of Thailand, translated by AmphawaToday.com